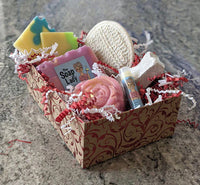 Gift Box of Hand-Made Soaps and Bath Products
Delight your friends and family with this one-of-a-kind gift box of hand-made, all-natural soap and bath products. We have a regular size (pictured here) and a large size which includes shipping.
This unique gift set comes in a decorative box, tied with a red ribbon. Order online and have it shipped directly to your loved one.     
Sincerely,
Lisa-Marie,
The Soap Lady of Cocoa, creator of Zephan Luxury Soap.
Gift Box Options
We Support the Organizations we Love!
A portion of our profits goes to supporting Serene Harbor. We also support Rin's Rescues.
Our products are never tested on animals. All of our packaging is either recyclable or compostable.
Our Best Selling Products
See What Our Customers Have to Say!
The fragrance of Almondine is so light and warm. After just two uses my skin feels so soft and smooth- no itching as I usually experience after showering. The suds rinsed away with no filmy or sticky residue- and I didn't need lotion afterwards. Your soap is second to none in quality, and knowing you DO NOT use Palm oil in your products has made me a loyal customer. I'll see you soon to try more scents.

Beverly L.
I was in downtown Cocoa after Thanksgiving and ran into this shop. I must say Im HOOKED!!! This soap is amazing. My skin is super sensitive and this soap is pure amazing. I do recommend!!!!

Candice
I bought the eucalyptus soap from your adorable shop in Cocoa Village and enjoyed chatting with you. The soap has helped with my severe case of eczema. Thank you! I wish I had found out years ago!

Leah B.